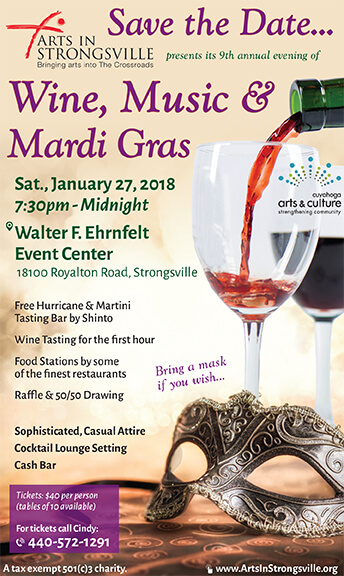 Although Arts in Strongsville's main fundraiser has been the Wine, Music and Cabaret Event, Arts in Strongsville thought it would be fun to host a Wine, Music and Mardi Gras Event.
It will be held on January 27, 2018. It will still have free Wine tasting and free Martini tasting by Shinto's for the first hour but we are adding to the tastings, the Hurricane, which is one of New Orleans specialty drinks! It will also have food stations as in the past, a raffle and 50/50 drawing as well. What you can expect to be different is the Mardi Gras/New Orleans flair that will spice up this event.
Get your tickets now! The event has sold out for many years and we expect this year's event to be no different. Tickets are $40 each and you can reserve tables of 10 if you'd like. Contact Cindy Baldin at 216-973-1488 or Amy McEntee at 216-973-0844 to order your tickets now.
---
Thank you to all of this year's restaurateurs, sponsors, supporters and attendees that made this year's Wine, Music & Mardi Gras another success!
Restaurants                                                                           
A Slice Above                                                                            
Bianca's Italian Ristorante
Buffalo Wild Wings
Don's Pomeroy House
J Bella Italian Restaurant
Johnny J's Pub & Grille
Nuevo Modern Mexican & Tequila Bar
Shinto Japanese Steakhouse and Sushi Bar
Square 22
Stancato's Italian Restaurant
The Islander Bar & Grille
Tom+Chee
Triv's Restaurant & Lounge
Zoup, Greens of Strongsville
Desserts
Corbo's Bakery – located at Marc's in Strongsville
Costco Bakery
Lemonberry Frozen Yogurt – Don & Sandy Smith
Market District • Giant Eagle
Mertie's Hungarian Strudel Shop – donated in memory of Tony Vehar, ITO Company
Nothing Bundt Cakes – Liz Rowan, Owner
Polaris Career Center and the Baking & Pastry Arts Program
Donations
CQ Printing
Home Depot
Jim & Mary Kaminski, Strongsville VFW Post 3345
Robert Schaffer
---
Save the Date
January 26th, 2019
Funds raised at this year's event will go toward The Chalk Walk, Scholarships, Camp Applause and A Day at the Chalet.